News / 2021.02.25
For the first time in Kansai! Drive-in haunted house at YOLO BASE in Shin-Imamiya, Osaka
Starting Friday, March 12, with the aim of creating jobs for foreign residents during the COVID-19 pandemic


We are pleased to announce that YOLO JAPAN Co., Ltd. (Representative Director: Taisuke Kaji, Osaka Head Office: Naniwa-ku, Osaka City, hereinafter referred to as "YOLO JAPAN"), one of Japan's largest media operators with 170,000 registered foreign residents from 226 countries, will open a drive-in haunted house at YOLO BASE located in Shin-Imamiya, Osaka on Friday, March 12, 2021, in partnership with Japanese haunted house company (Representative Director: Ayaka Imaide, hereinafter referred to as "Japanese haunted house company").
■Background
YOLO JAPAN, which has been providing services to provide support for the daily-life of foreign residents, which includes a job information website and training services for learning Japanese language and business etiquette, has started a drive-in haunted house as a new form of job creation for foreign residents in response to the voices of those who have experienced a reduction of work or have lost their jobs due to the spread of COVID-19. Specifically, we will bring you a drive-in haunted house experience by setting cars in the lobby of a closed hotel that has been renovated into a haunted house, which is attached to YOLO BASE, an inbound training facility for foreign workers operated by YOLO JAPAN .
■Features of the drive-in haunted house at YOLO BASE
✓Enjoy safe and secure entertainment even during the COVID-19 pandemic
You will enjoy a whole new horror experience while avoiding the three Cs from inside a car.
You don't need to have a car or a license to enjoy this experience as you will be taking it in from inside one of the cars set up at our venue.
✓Our cars are sanitized and cleaned after every performance
You can rest assured that after each performance, the interior of each car is sanitized and cleaned.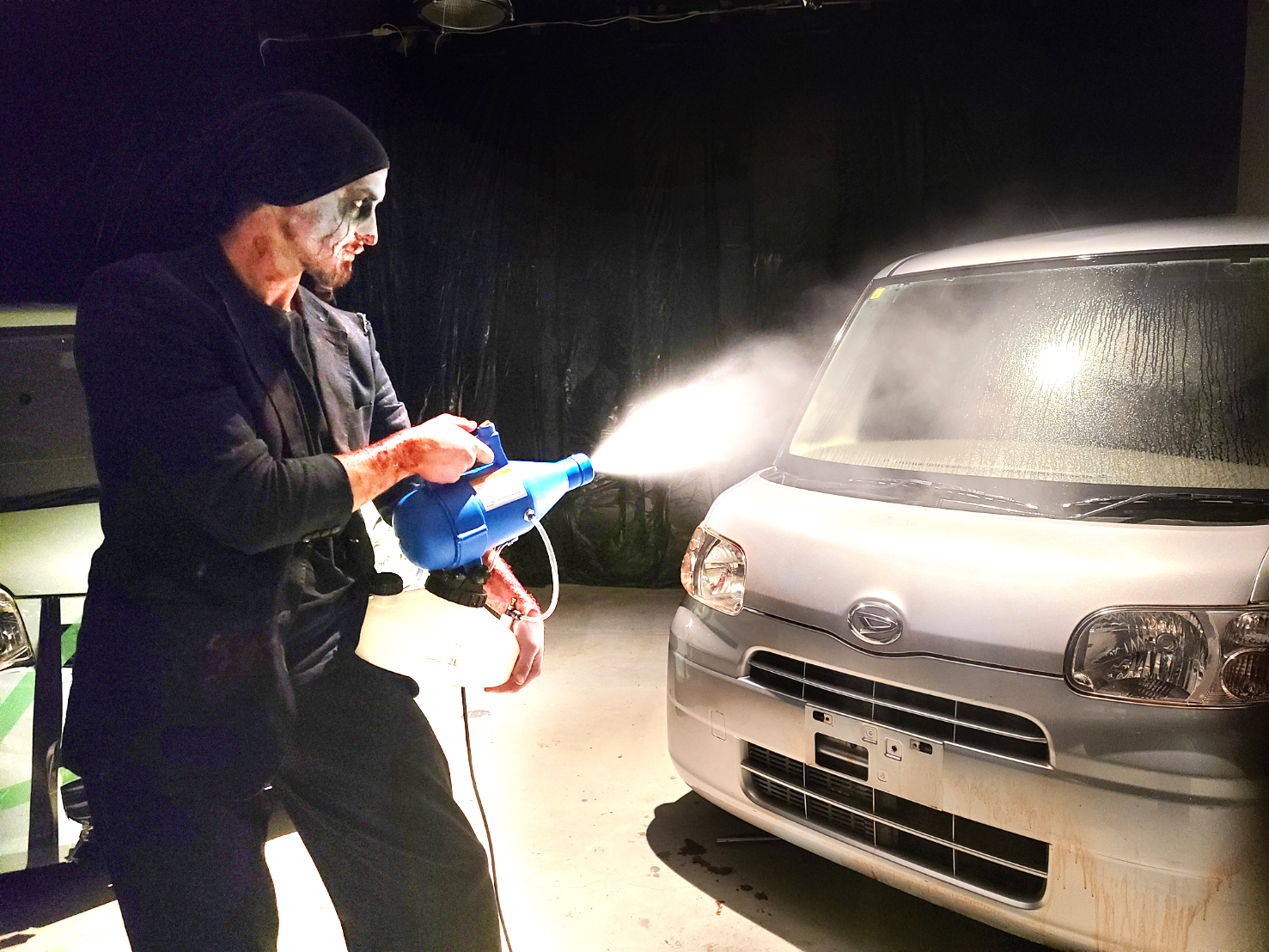 ✓After the performance, you can enjoy meals and drinks at the on-site restaurant.
At YOLO BASE, where you can experience a drive-in haunted house, there is also an on-site restaurant. After the haunted house experience, eat your fill with hot meals and drinks.

YOLO JAPAN aims to revitalize the local community and create a new landmark in Osaka through the "Drive-in haunted house at YOLO BASE", which will take place at YOLO BASE, accessible from both the Minami area, Osaka's largest shopping district, and the Shinsekai area, visited by more than 10 million people annually.
■Information

Start Date: Friday, March 12, 2021
Location: YOLO BASE, 3-chome 13-24, Ebisu nishi, Naniwa-ku, Osaka-shi, Osaka, 〒556-0003
Opening Hours: Every Friday, Saturday, and Sunday
  Friday 6:00pm-10:00pm
  Saturday 3:00pm-10:00pm
  Sunday 3:00pm-9:00pm
Price: 6,000 yen per car (excluding tax) *Each car is limited to 4 people
Time required: Approx. 20 minutes *The experience takes place in cars that we provide. No car or license is required.
Make a reservation here